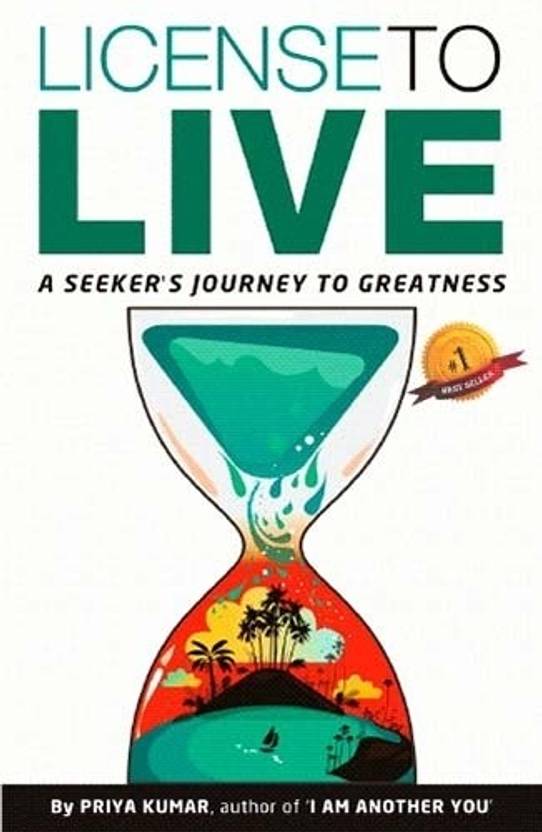 Hello readers! How's your week going? I had a great week. You know I had cast my vote for the first time. I feel responsible (alright, let's say symbolically responsible) now. Let me know in the comments section what were your experiences in casting your vote for the first time.
Before beginning, I want to ask a question from all of you. Did you guys know there a category of books that fall in the genre of 'fiction inspiration'? I knew about two distinct categories of fiction and inspiration, but fiction inspiration, is new, isn't it? I had no idea about this, before reading the novel. Well, I learnt a new thing today, coincidentally, in tandem with the theme of the book.
Summary
License to Live, by Priya Kumar is a novel that narrates the tale of a seeker on a journey of self discovery, a journey of happiness, a journey of life, about life,for life. The protagonist, a successful corporate guru, realizes that something is missing in her life. A chance encounter with a stranger turns her world upside down and motivates her to sign up for a bizarre seven day seminar for a whopping $25,000(approximately Rs 18,00,000 ) by one of the finest success coaches in the world. What follows is an exciting journey to the future, past and present (in the particular order), spread over three countries which forces Priya to reflect and learn something which she had always overlooked…
Plot
The plot is part fictional, part inspirational (now I know, that's a thing). I am sure many of you will relate to the protagonist as you read about her internal struggle and dilemma in the early chapters of the book. The plot takes an interesting turn with each chapter and makes you turn the pages without stopping. While reading the book, you realize somewhere deep down, her journey has become your journey and her learning become your learning. You let go of your demons of the past, create new possibilities for future and learn to be in the present over the span of the seven day journey with Priya. Her accomplices become a part of your journey and you greet a brand-new-you as you close the book and brush your hand over the front cover.
Characters
There are primarily four characters in the novel, each on their own journey, this own mission.
We first meet Miss Priya Kumar, a successful corporate guru in the novel. She is unsure about finding contentment and happiness in her self-carved life and longs for fulfillment. She signs up for a bizarre seminar and in the process of completing assignments, she starts understanding life and taking responsibility for her every action. Her battles with the fears of future, guilt of the past and difficulty of being in the present is a true depiction of the internal battles we face each day. I think a rendezvous with her (even if it is though the pages of the book) is necessary for us to reflect on our actions and lead our lives in a better.
The most important character in the novel is Kurt Rinck, the best success coach the world has ever seen. His severe coaching methods and detached attitude towards his disciples make you wonder about the depth of his lessons and trust me you are not disappointed. He forces you believe in yourself and fight until you have achieved what you wanted to at the beginning of the journey. Although his presence in the book is minuscule, his powerful teachings and thoughts are enough to inspire you for a lifetime.
The other two characters in the novel are Priya's two accomplices Uma and Karlos. The fellow disciples help her in the ultimate journey in unintended ways and the most difficult phases. These characters make you a realize, all the people who cross our paths, have to eventually leave one day, but what is important and worth remembering is the pinch of good that these people added in our lives.
Review
Let me be frank with you guys. This book is like a textbook that we used to study in school, complete with a page dedicated to instructions dictating how to read the novel. To be honest, I had not read that page in the beginning and had to start again because that page contained the necessary itinerary for the journey, I advise you to repeat the same mistake and follow the instructions diligently (read the book and you will know what I am talking about).
This book is the perfect guide for those looking answers about their everywhere, but within. It is book that can change your life, only if you put to practice what you read. Miss Kumar tries to reach you through her writing and urges you let go of your past, be in the present and create new possibilities for future. Be responsible, be courageous, take the plunge and contribute more for a more satisfying and fulfilling life. With bits of humor and sarcasm, you are bound to realize one thing, life is incomplete without one little thing; laughter. As you read the pages, you realize that this is the book you had been waiting for throughout your life, to bring a change. Keep in mind one thing, only you are responsible and capable to change your life, always.
What I felt was missing in the novel was ,an afterword after its abrupt ending. This was probably a nudge for us to rewrite our own destiny or a way the author adopted to tell us, life never stops, it moves along. Whatever it was, I feel with a little more insight in the character's life after learning life's greatest lessons would have added another aspect to the book.
If I were to rate this book, it would be 3.9/5. It's worth a read at least once in your lifetime. Who knows with this you also realize your true calling and start to grow taller and stronger from your stagnant self?
Let me know if there are any books which you would like me to review.
And don't forget to follow my blog.
Cheers!
© 2019 Bhagyashree. All rights reserved.